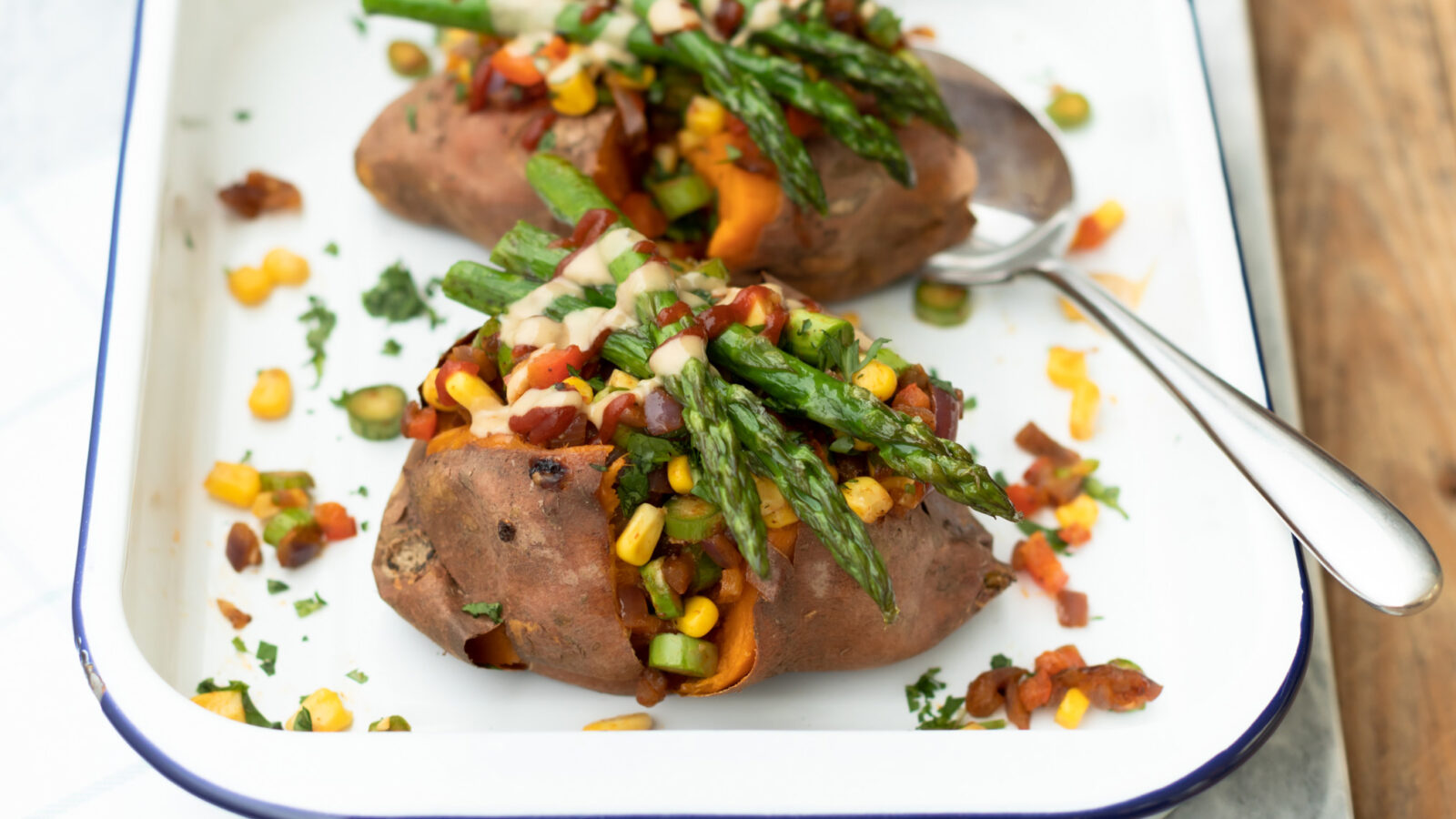 Mexican Loaded Sweet Potatoes with Asparagus
A delicious vegetarian dish packed with flavour and vibrant colours.
Ingredients
2 sweet potatoes (large)
250g of asparagus
2 tbsp of olive oil
1 red onion (chopped)
1 red pepper (deseeded and chopped)
1 tin of sweetcorn
1 tsp of smoked paprika
1 tsp of ground cumin
3 tbsp of chopped coriander
1 tsp of sriracha
Method
Preheat the oven to 190C.
Prick the sweet potatoes all over and put on a baking tray lined with tin foil then bake in the oven for 40 minutes until you can easily pierce with a knife.
Meanwhile, heat the olive oil in a large frying pan. Add the red onion and sauté for five minutes then add the spices and cook for a further minute.
Cut the asparagus into 5 cm lengths and add to the pan along with the red pepper (except for the asparagus tips) then cook for a further five minutes. Add the sweetcorn for the last two minutes to heat it through.
When the sweet potatoes are almost ready, put the asparagus tips on the baking sheet with the sweet potatoes, drizzle with 1 tsp of olive oil and roast for 5-10 minutes.
To assemble, split the sweet potatoes lengthways, fill with the mixture from the pan. Top with the roasted asparagus tips and drizzle with a little sriracha and tahini (optional). Add coriander on top to garnish.