As you can imagine, pumpkins harvest in October just in time for Halloween!
There are tonnes of varieties of pumpkins, squashes and gourds in all different shapes, sizes and colours so there's something for everyone whether that's for carving or cooking.
So get your wellies on, grab a wheelbarrow and come and pick your own pumpkins in our patch!
Once picked, you can store pumpkins in a cool place such as a garage. Just pop them on a sheet of cardboard to prevent rotting and they can last for a few months!
After carving them, don't forget there are so many recipes you can use the flesh in! Pumpkin tastes delicious in soups, curries, cakes and loads of other recipes!
Did you know pumpkins are technically a fruit?
PYO Pumpkin FAQs
Do I need to book a slot?
We get very busy during pumpkin season so you will need to book your ticket for our Ladysden Pumpkin Festival or Pumpkin Nights here.
How much do pumpkins cost?
Tickets to the daytime Ladysden Pumpkin Festival cost £2.50 per person (over the age of 3) and tickets to the PYO Pumpkin Nights cost £5 per person (over the age of 3). These tickets allow you to gain access to the pumpkin patch and then pumpkin prices start from 50p.
Will I need wellies?
YES! PYO pumpkins gets very messy as you can imagine so definitely be prepared for mud and rain with a coat and suitable footwear! We also recommend bringing some bin bags to help keep your car as mud-free as possible!
Will PYO still be open if it rains?
Unless the pumpkin field becomes dangerous and slippery due to heavy rain, we will remain open. Please check our Facebook page on the day in case the weather isn't playing ball!
Are all the pumpkins edible?
We have a huge variety of pumpkins, gourds and squashes and not all of them are edible. Scroll down or check out the posters in our shop to find out which ones to eat and which to avoid.
Are dogs allowed in the pumpkin field?
Your furry friends are welcome on the pumpkin patch and we'd love to see your photos of them but please make sure they are kept on a lead and you clean up after them.
Is there pushchair/wheelchair access?
There is access for pushchairs and wheelchairs around our shop and in The Park Garden but the pumpkin patch isn't suitable because of how muddy it can get.
Can I fly drones?
You are not allowed to fly drones over the farm, sorry!
When can I come and pick pumpkins?
The Ladysden Pumpkin Festival is open every weekend in October as well as half term. We are also running two PYO pumpkin nights on Thursday 26th and Friday 27th October which you can book tickets for here.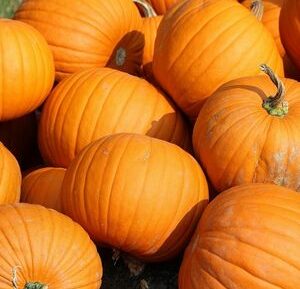 Orange Pumpkin
Edible
The most well-known of pumpkins and the one you're probably used to carving or seeing in Cinderella! A great all-rounder and delicious in pumpkin cupcakes or brownies if you want to try something different.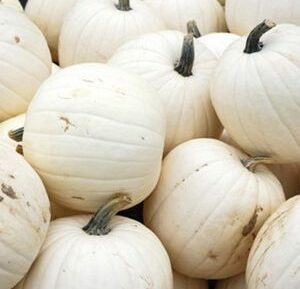 Polar Bear Pumpkin
Edible
These big, white pumpkins have a ghostly appearance fit for Halloween. They're great for decorating and eating but also make a spooky alternative to carving a regular orange pumpkin.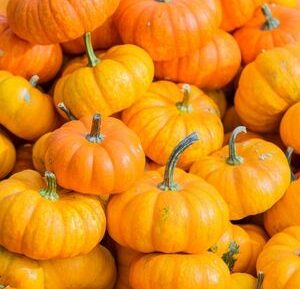 Munchkin Pumpkin
Edible
These are by far, the cutest of all the pumpkins and perfect for decorating. Although they're small, they can still be eaten and the flesh has been compared to the taste of chestnuts.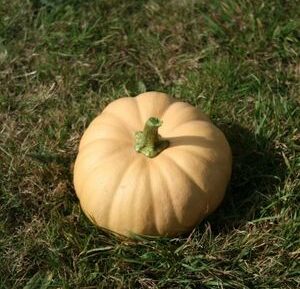 Autumn Crown Squash
Edible
Also know as the Squashkin, this pumpkin is a cross between a Crown Prince and a Butternut Squash. It's great for cooking with the same qualities as the latter and the aroma of sweet melon when cut into.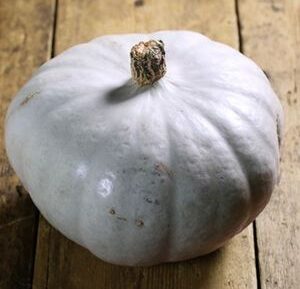 Crown Prince Squash
Edible
With silvery blue skin and sweet-tasting orange flesh, this pumpkin is great for both decorating and eating. Even though it's great for all types of cooking, it's particularly delicious roasted!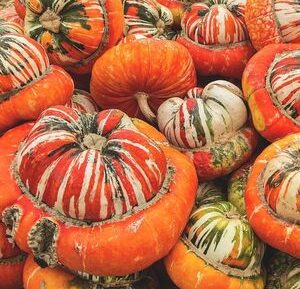 Turban Squash
Edible
Also known as the Turk's Turban, this squash is normally found mottled in shades of orange, green and white. It's commonly used as an ornament but is also great for cooking as it tastes a bit like Butternut Squash.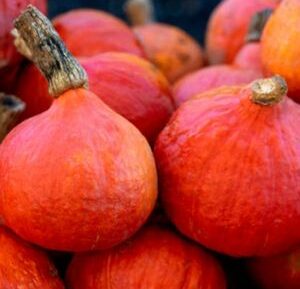 Red Onion Squash
Edible
These have a similar shape and size to a red onion (as you can guess from the name) although, they taste more like chestnuts. They're great for roasting or making into soups and stews.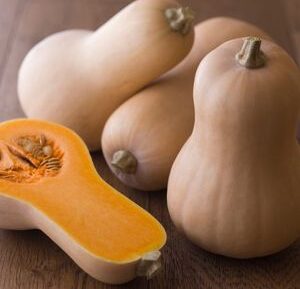 Butternut Squash
Edible
It's the squash we all know and love! It may not be the most decorative but with a sweet and nutty flavour, it's delicious in soup, curries, risotto, pasta, salads and most other dishes.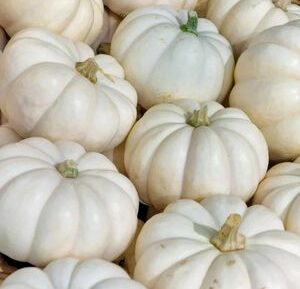 Casperita Pumpkin
Edible
These are similar to the Munchkins except they're white in appearance. Almost like a cross between a Polar Bear and a Munchkin! They are ideal for decorating and although small, can still be eaten.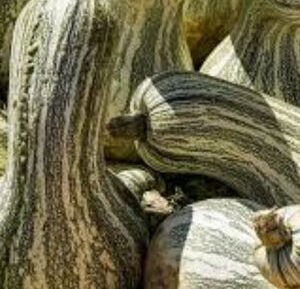 Cushaw Squash
Edible
These are similar in colour and pattern to a courgette but with a bulbous base and thinner neck. They have a sweeter flavour than most pumpkins so can be used in desserts as well as savoury dishes.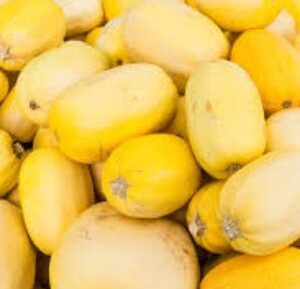 Spaghetti Squash
Edible
A common favourite amongst our customers, the spaghetti squash also know as 'vegetable spaghetti' is a variety of squash with flesh that pulls into spaghetti-like strands when cooked.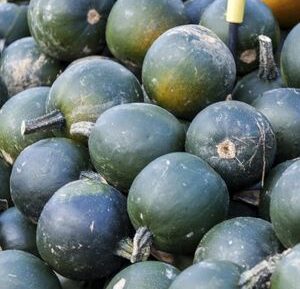 Gem Squash
Edible
Gem Squash originate from Central America and are great for cooking. Their yellow-orange flesh is sweet and they're super easy to cook – just scoop out the seeds, fill the cavity with tasty flavours and bake!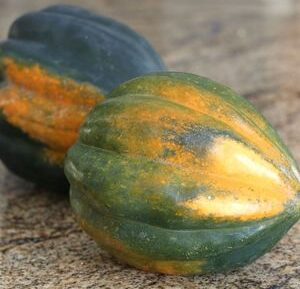 Acorn Squash
Edible
You probably guessed that this variety of squash is shaped like an acorn with with deep ridges. It's also know as the Pepper Squash and is full of sweet-tasting, yellow-orange flesh.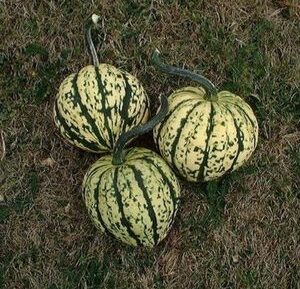 Harlequin Squash
Edible
A decorative winter squash with stripes of green, gold and orange which look great as an ornament but taste good too! Due to its high sugar content, it's quite sweet but works well in savoury meals too.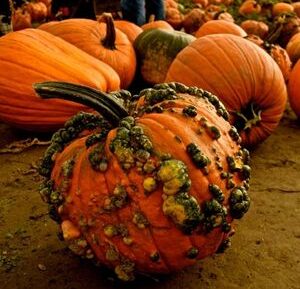 Goosebump Pumpkin
Not edible
If you're looking for the perfect ornamental pumpkin for Halloween then look no further! With its warty texture and mix of colours, the Goosebump Pumpkin makes a great decoration.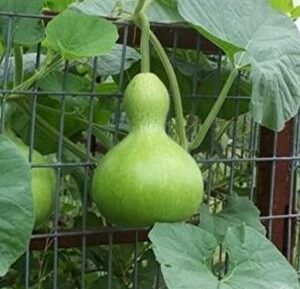 Birdhouse Gourd
Not edible
As the name suggests, these gourds are perfect for making a birdhouse for your garden but definitely not for eating!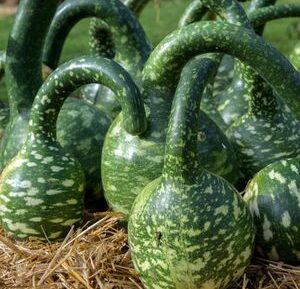 Speckled Swan Gourd
Not edible
These gourds get their name from their long thing swan-like neck.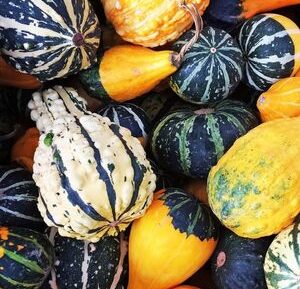 Decorative Gourds
Not edible
We have a huge selection of decorative gourds in lots of different colours. They are normally small, warty and pear-shaped and perfect for decorating but not for eating.