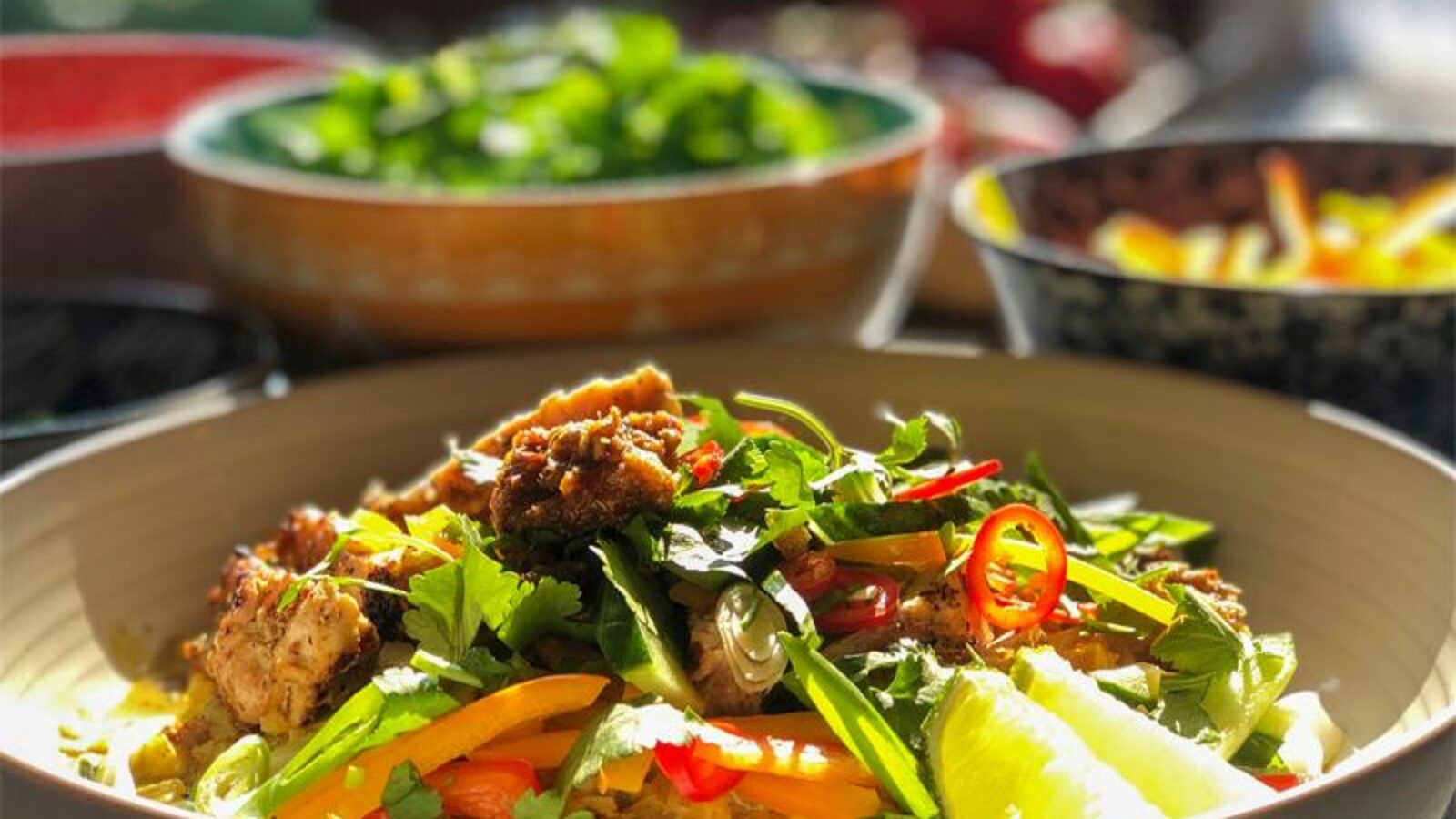 Malaysian Chicken Laksa
If you're after tasty comfort food, this spicy noodle soup is exactly what you need.
Ingredients
8 skinless boneless chicken thighs
120g Karimix Laska Curry Paste
50g Karimix Lemongrass Chilli Sambal Paste
400ml coconut milk
240g rice noodles
A splash of fish sauce
150ml chicken stock
2 onions (finely sliced)
1 red chilli (finely sliced)
1 red pepper (finely sliced)
2 spring onions (finely sliced)
1/3 cucumber (finely shredded)
A small bunch of fresh coriander
2 fresh limes (cut into wedges)
4 tsp Kentish Oils Rapeseed Oil
Method
Marinade the chicken thighs in the Lemongrass Chilli Sambal Paste (the longer you can do this the better).
Half an hour before you want to eat, start making the Laksa. Fry the onions in a little oil until they start to soften then add the Laksa Curry Paste and continue to gently cook for around five minutes.
Pour in the coconut milk, the chicken stock, a splash of fish sauce and bring up to a simmer and cook for another five minutes then turn off the heat and set aside until ready to plate up.
Pour boiling water over the rice noodles until they are completely covered and leave for around 10 minutes until they are soft then drain.
Fry the the chicken by starting with a hot pan then turning it down a little to ensure it cooks right through the meat. Once cooked, carve the chicken into thin strips.
Place a good handful of the noodles into a bowl, pour over a generous ladle full of the broth, top it with the sliced chicken and garnish with the cucumber, pepper, chilli, fresh coriander and lime wedges.