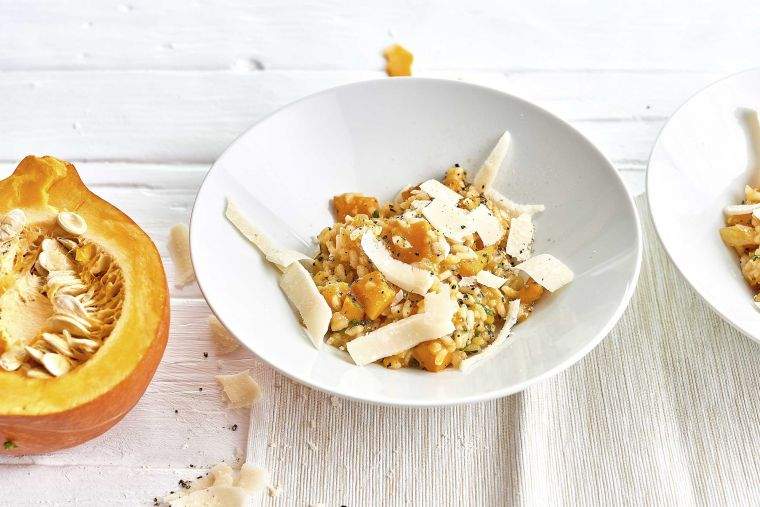 Crown Prince & Cider Risotto
What more could you want on a chilly evening other that tasty risotto?
Ingredients
500g Crown prince (peeled and diced)
175g arborio rice
250ml cider
300ml chicken or vegetable stock
1 onion (finely diced)
50g salted butter (cubed)
75g grated parmesan
1 garlic clove (crushed)
A few sprigs of fresh thyme
A drizzle of olive oil
A pinch of salt and freshly ground pepper
Method
Preheat your oven to 180C.
Add the cubed squash to a roasting dish, drizzle with olive oil and season with salt and pepper. Roast for around 12-15 minutes until tender. Cool and lightly mash.
Heat 2 tablespoons of olive oil in a pan and sauté the onions for about 3 minutes. Add the garlic and cook for another 2 minutes. Add the rice and cook for a minute, stirring to coat all the grains in the oil then season with salt and pepper.
Add 1⁄3 of the cider and the thyme leaves to the pan. Stir until absorbed into the rice then add the remaining cider to the chicken stock and gradually add to the pan. Remember to allow the rice to absorb before adding more.
Keep stirring the rice and cook for about 20 minutes until al dente or firm to the bite.
Stir through the slightly mashed crown prince, cubed butter and 2⁄3 of the grated parmesan. Cover with a lid and allow to sit for 2-3 three minutes.
Serve in shallow bowls and sprinkle the remaining parmesan cheese over the top.